AKCENT International House Prague
AKCENT International House Prague has been a language school since 1990 (formerly AKCENT Language School). Since then, we have grown to be one of the largest private language schools in the Czech Republic employing over 120 people. Our school offers English, German, Czech, Spanish and French Courses. We organize courses for English teachers such as The Cambridge CELTA, ICELT, DELTA, TKT, IHCYL and IH BET1. We also offer methodology courses for pedagogical specialists.
In 2000, the school became affiliated with the International House World Organisation 
International House World Organisation
With more than 122 affiliates in 42 countries, IHWO is one of the most important networks of language schools around the world. The Affiliated Network Department is based in London. 1,000,000 students study English and other languages each year in the schools associated with the IH Network.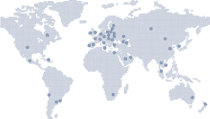 All schools are independently owned and managed, but adhere to the same codes of practice and rigorous inspections to ensure they all offer the same high quality education and customer service around the world.
Certificate of Affiliation [PDF, 262 kB]
It is AKCENT International House Prague's desire to increase public language education standards and to improve teacher's methodological level according the International House World Organisation's goals.
Our main, everyday objective is to provide a high level of satisfaction for our clients.
We are specialists in complex language education.